For businesses to accelerate to success in a global landscape, it requires sustainable brand positioning that merges with innovation. Following this formula allows businesses to become the pioneers for new levels of success.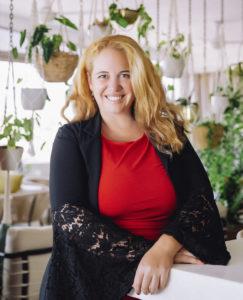 Brooke Hart is a thought leader in digital innovation, strategist and entrepreneur. She pioneers cutting edge strategies that boost companies with sustainability, greater productivity, and a higher return on investment. She identifies the gaps in the internal and external environment of businesses, offering approaches that accelerate success.  
Hart first began as with her own business in digital marketing, On Target.  She is a marketer with expertise in SEO, SMM, emails, funnels, copywriting and bots. She quickly realized that the changing landscape in digital marketing also required a new formula and approach to strategy and brand positioning. 
She moved into research and analysis, value add strategies and implementation plans, specifically with a focus in lifecycle and the customer journey, which are known to accelerate businesses to the next level, sometimes with only one plan broadening a company's reach for the next 10 years. She has worked in diverse industries and is known for her problem – solving skills as well as her embrace in innovation as a key solution. 
From 6 Month Strategies to 10 Years of Success
Sustainable marketing is a key to any business that wants to leverage their brand identity. With the proper approach to strategies, it creates sustainable marketing. This allows you to use the same strategy for up to 10 years, creating a cycle of success. 
Every company who wants to leverage their presence with the current global demand in business requires following a business success formula. This includes research and analysis of positioning, differentiation and your brand identity. Going beyond and recognising the new, global and digital landscape of innovation is essential to success. 
The strategies not only demand specific tactics, but require examination of the internal and external environment and how they relate to each other. Hart works with both marketing and operational direction to guarantee success within a company. 
The following success stories are some of hundreds of examples of how businesses and corporations have used Hart's methods to maintain their digital presence for years. 
With no online presence, this client relied on trade shows to convert individuals to his events. 
A combination of a high-converting online presence techniques with unique, monthly online marketing strategies transformed the business presence where thousands in traffic started visiting the site. Passive income as well as continuously selling out events became mainstream for the company. 
They have used the same marketing formula since 2010, maintaining all materials and approaches while selling out each event as well as products with ease.
This client was experiencing an "operational crisis." Her current personnel were using outdated approaches and negated changes to new platforms or ways of marketing.
A completely new online presence was built with a formula that complimented the needs of the current personnel while accelerating the success of the company. 
With little to no marketing changes, the client is now leveraging a 6 figure income from the altered structure and functions.
A complete marketing formula being used by this client, creating "marketing wheels" that followed trends and latest tactics to get traffic. The wheels were copied by the company and then were copied by hundreds of other marketers in the same industry. 
Research and analysis as well as unique identification of the company was used, showcasing where changes were required. 
With one new and innovative idea that no one else was using, the company was able to turn and transform their presence and maintain a new cycle of success that identified their brand in a way that no other competitor was able to use. 
Yes, there is a way to leverage results and to keep building from that point. It's not a hack, it's just a better way of doing business.
Identify Your Sustainable Brand Identity
Through in-depth research, analysis and mastermind sessions, I assist with your sustainable brand identity, helping you to leverage your presence and re-create your image for a new, prosperous and sustainable life cycle. 
Move to the Cutting Edge of Innovation
Businesses that continue to use the same tactics create marketing wheels, many which move out with new trends. The combination of technology and the information age means that continuous progressions with innovation are required for success.
Leverage Both Operations and Marketing
While some businesses have formulas that work, gaps in the operations and internal environment stop one short from success. I look at how individuals relate to strategies and how this can be leveraged for more effective implementation and a positive return. 
Speak to me about issues you are currently having with your business for mastermind formulas that are able to identify changes you need to create with your business. Fill out the questionnaire for your free 15 minute consultation.